AMD Radeon HD 7770 1GB Review
Specifications
Graphics processorAMD Radeon HD 7770 1GB, 1,000MHz
Pipeline640 stream processors, 16 ROPs
Memory 1GB GDDR5, 4.5GHz effective
Bandwidth 72GB/sec, 128-bit interface
Compatibility DirectX 11, OpenGL 4.1
Outputs/Inputs DVI, HDMI, 2 x mini DisplayPort
Power connections 1 x 6-pin, end-mounted
Size 210mm long, dual-slot
Introduction
At the low end of the spectrum as far as serious gamers are concerned, AMD has had few offerings as of late. The HD 5770 1GB is the card that most will have opted for in the super-budget bracket over the last year or two, where the HD 6850 1GB might have proved to be a little too expensive. However, the latter, which can happily handle many modern games at 1,920 x 1,080 at high settings, can regularly be picked up for less than £100, which means AMD is having to juggle between price and performance with its latest hardware release, the HD 7700 series.
Two cards are hitting shelves at an etailer near you, the HD 7770 1GB and the HD 7750 1GB – it's reasonable to assume these are direct replacements for the HD 6870 1GB and HD 6850 1GB, given that if the HD 7770 1GB fails to knock either off their perch, there's going to be a huge performance gap in 7000 series cards. This view isn't quite as clear when you consider the RRP of the new hardware - £100 for the HD 7770 1GB and £85 for the HD 7750 1GB. Unfortunately, on the day of launch, these prices seem to have been very conservative, with the HD 7770 1GB actually coming in at £130.
The HD 7770 1GB is priced very similarly to the HD 6870 1GB, which is still readily available, so you'd hope the newer card would make the budget 6800 series models redundant overnight. However, this will mean that the HD 7750 1GB will be trampling on the HD 5770 1GB and HD 6770 1GB's territory but more importantly, that AMD has left a huge price gap between the £100 HD 7770 1GB and the HD 7950 3GB, which costs more than £220 more.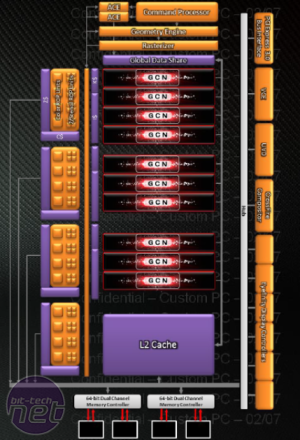 We're happy to report that the 7800 series, or something similar, will drop at some point, then, and looking at AMD's roadmap for the next eight weeks or so, a $199-$399 'Pitcairn' offering looks set to come our way very soon. Hopefully this will come with marked performance increases over the current HD 6800 series, and offer something for those of us who consider £300+ too much, but £100 offering too little grunt for our needs (read sweet spot).
For now, lets take a closer look at the model we're reviewing here – the HD 7770 1GB. Both the new HD 7700 series models sport the Cape Verde architecture – essentially a significantly cut down, 1.5 billion transistor version of the Tahiti architecture found in the HD 7900 series released late last year – and a 28nm manufacturing process.
There's a total of ten compute units and 640 stream processors – quite a chop from the HD 7950 3GB's 60 separate compute units and 1,792 stream processors, while the ROP count drops from 32 to 16.
Compared to the top end AMD card – the HD 7970 3GB, memory bandwidth is decidedly paltry – 72GB/sec compared to a stonking 264GB/sec, but if you're hoping the HD 7770 1GB is game for high settings and oodles of AA at 2,560 x 1,600 in demanding games, then you'll be disappointed, although you can check our tests to see how it fared anyway.
As we all know though, the numbers don't always tell the whole story, but it's unlikely the HD 7770 1GB is going to pull anything fancy out of the hat, despite it also sporting a 1GHz core speed – a first for a reference graphics card. The 1GB of GDDR5 memory is clocked at 1,125MHz (4.5GHz effective).
As you can see from the dismantled cooler, the HD 7770 1GB is a very simple affair, with a bi-directional exhaust. While we usually prefer the heat to be directed towards the PCI expansion slots, given that AMD specifies a typical board power of just 80W, we doubt heat will be anything remotely resembling a problem, especially as we're dealing with a 28nm GPU.